Category Archives:
Mystery
Love it! Love it! Love it!  Fairy tale and literary allusions abound! This modern day fairy tale, quest story is so very different than anything I've read recently. I got lost in it, just like Alice (and, yes, that's an allusion to the original Alice – another favorite of mine!).
Seventeen-year-old Alice and her mother have spent most of Alice's life on the road, always a step ahead of the uncanny bad luck biting at their heels. But when Alice's grandmother, the reclusive author of a cult-classic book of pitch-dark fairy tales, dies alone on her estate, the Hazel Wood, Alice learns how bad her luck can really get: her mother is stolen away―by a figure who claims to come from the Hinterland, the cruel supernatural world where her grandmother's stories are set. Alice's only lead is the message her mother left behind: "Stay away from the Hazel Wood."  (Good Reads)
What an amazing journey!  I absolutely fell in love with Crow. She's just such a plucky, fearless, and independent young creature! The relationsip she has with her father and lady neighbor are reminiscent of another young favorite of mine, Scout Finch. This one will teach us all about the beauty of family, in whatever form that may find you. Loved it!
Twelve-year-old Crow has lived her entire life on a tiny, isolated piece of the starkly beautiful Elizabeth Islands in Massachusetts. Abandoned and set adrift on a small boat when she was just hours old, Crow's only companions are Osh, the man who rescued and raised her, and Miss Maggie, their fierce and affectionate neighbor across the sandbar. (Good Reads)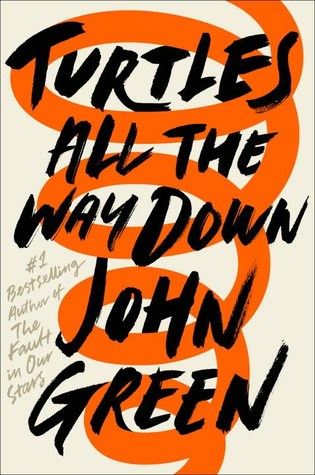 I don't think I've ever been so completely inside the head of the protagonist as I became while reading this story. Aza suffers from the most extreme case of OCD and germaphobia I have ever encountered. As she attempts to open up to the possibility of a physical relationship with the boy she cares for, all of her fears come crashing down on her. But John Green, genius that he is, pairs this downward spiral with an off-beat mystery that keeps us all guessing as well. Quirky characters abound, as usual, and will stay with you long after you close the book. I love this one!
"It all begins with a fugitive billionaire and the promise of a cash reward. Turtles All the Way Down is about lifelong friendship, the intimacy of an unexpected reunion, Star Wars fan fiction, and tuatara. But at its heart is Aza Holmes, a young woman navigating daily existence within the ever-tightening spiral of her own thoughts.
In his long-awaited return, John Green shares Aza's story with shattering, unflinching clarity," (Good Reads)