Category Archives:
Literary Allusions
Love it! Love it! Love it!  Fairy tale and literary allusions abound! This modern day fairy tale, quest story is so very different than anything I've read recently. I got lost in it, just like Alice (and, yes, that's an allusion to the original Alice – another favorite of mine!).
Seventeen-year-old Alice and her mother have spent most of Alice's life on the road, always a step ahead of the uncanny bad luck biting at their heels. But when Alice's grandmother, the reclusive author of a cult-classic book of pitch-dark fairy tales, dies alone on her estate, the Hazel Wood, Alice learns how bad her luck can really get: her mother is stolen away―by a figure who claims to come from the Hinterland, the cruel supernatural world where her grandmother's stories are set. Alice's only lead is the message her mother left behind: "Stay away from the Hazel Wood."  (Good Reads)
This second book in the series suffers a bit from sophmore syndrome, but I enjoyed being back in the world of the scythedom very much. The best part for me was the apprentice/mentor portion of the text. Although at times the secondary story lines become a bit muddled, they do add depth and dimension to the story and save it from being too repetitive.
"Rowan has gone rogue, and has taken it upon himself to put the Scythedom through a trial by fire. Literally. In the year since Winter Conclave, he has gone off-grid, and has been striking out against corrupt scythes—not only in MidMerica, but across the entire continent. He is a dark folk hero now—"Scythe Lucifer"—a vigilante taking down corrupt scythes in flames.
Citra, now a junior scythe under Scythe Curie, sees the corruption and wants to help change it from the inside out, but is thwarted at every turn, and threatened by the "new order" scythes. Realizing she cannot do this alone—or even with the help of Scythe Curie and Faraday, she does the unthinkable, and risks being "deadish" so she can communicate with the Thunderhead—the only being on earth wise enough to solve the dire problems of a perfect world. But will it help solve those problems, or simply watch as perfection goes into decline?" (Good Reads).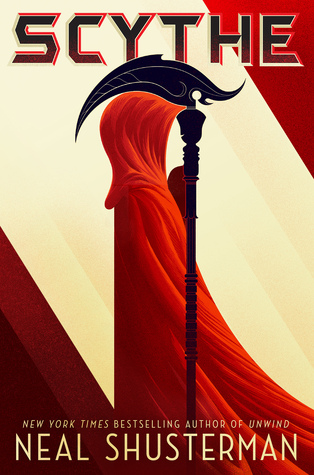 Who doesn't love a series? I mean, really! And one that looks at death in a whole new way? I. AM. IN! I thought this was such a clever look at mortality, especially through the eyes of the adolescent. The age old trope of the chosen one is given a fresh scrub in this realistic look at a dystopian world. I loved it and have recommended it to all kinds of readers!
"A world with no hunger, no disease, no war, no misery. Humanity has conquered all those things, and has even conquered death. Now scythes are the only ones who can end life—and they are commanded to do so, in order to keep the size of the population under control.
Citra and Rowan are chosen to apprentice to a scythe—a role that neither wants. These teens must master the "art" of taking life, knowing that the consequence of failure could mean losing their own," (Good Reads).