Category Archives:
LGBTQ
So, I'm usually more of a young adult fiction fan, but this non-fiction piece grabbed me and just wouldn't let me go!  I've never read a story of such a hateful and senseless crime. But even stranger is the fact that I came away not hating the perpetrator. There is some very subtle empathetic writing happening here. I will warn you that the crime itself as well as Sasha's recovery is difficult to digest, but Richard's character arc makes it worthwhile.  This story will ask you to dig deep and discover just how much forgiveness do we have as human beings.
The book also provides an enlightening education on the LGBTQ acronym, specifically regarding gender roles that I found refreshingly straightforward.
"One teenager in a skirt.
One teenager with a lighter.
One moment that changes both of their lives forever.
If it weren't for the 57 bus, Sasha and Richard never would have met. Both were high school students from Oakland, California, one of the most diverse cities in the country, but they inhabited different worlds. Sasha, a white teen, lived in the middle-class foothills and attended a small private school. Richard, a black teen, lived in the crime-plagued flatlands and attended a large public one. Each day, their paths overlapped for a mere eight minutes. But one afternoon on the bus ride home from school, a single reckless act left Sasha severely burned, and Richard charged with two hate crimes and facing life imprisonment. The case garnered international attention, thrusting both teenagers into the spotlight," (Good Reads).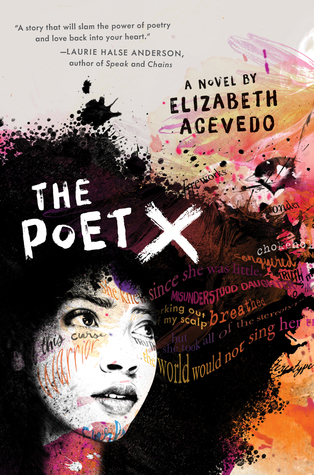 I just love that poetry is back in fashion! This young poet is so full of thoughts, ideas, wonder, and talent. But she feels stymied by an overbearing and tremendously strict mother. It is difficult for X to fully express herself, and the climax of this novel when she finally does will stay with me forever!
"A young girl in Harlem discovers slam poetry as a way to understand her mother's religion and her own relationship to the world. Debut novel of renowned slam poet Elizabeth Acevedo.
Xiomara Batista feels unheard and unable to hide in her Harlem neighborhood. Ever since her body grew into curves, she has learned to let her fists and her fierceness do the talking.
But Xiomara has plenty she wants to say, and she pours all her frustration and passion onto the pages of a leather notebook, reciting the words to herself like prayers—especially after she catches feelings for a boy in her bio class named Aman, who her family can never know about. With Mami's determination to force her daughter to obey the laws of the church, Xiomara understands that her thoughts are best kept to herself, " (Good Reads).