Monthly Archives:
November 2018
I'm not sure how I missed this one all of these years because I love Laurie Halse Andersen's work. But what an impact! It feels as frigid as its title. Written in a diary format, the book presents the inner workings of the mind that has overcome the body of the girl.  I was haunted from the very first pages and read it in one sitting just to find out what happens! The content may be upsetting to some as eating disorders are revealed in grave detail, but I woud consider required reading for my middle school girls.
"'Dead girl walking' the boys say in the halls.
'Tell us your secrets' the girls whisper, one toilet to another.
I am that girl. I am the spaces between my thighs, daylight shining through.
I am the bones they want, wired on a porcelain frame."
Lia and Cassie are best friends, wintergirls frozen in matchstick bodies, competitors in a deadly contest to see who can be the skinniest. But what comes after size zero and size double-zero? When Cassie succumbs to the demons within, Lia feels she is being haunted by her friend's restless spirit," (Good Reads)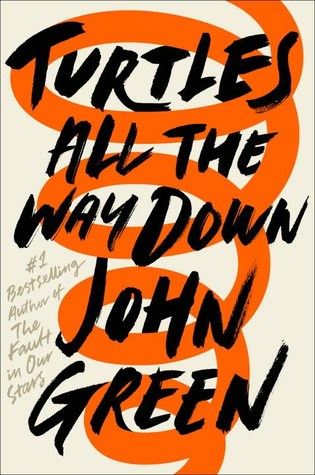 I don't think I've ever been so completely inside the head of the protagonist as I became while reading this story. Aza suffers from the most extreme case of OCD and germaphobia I have ever encountered. As she attempts to open up to the possibility of a physical relationship with the boy she cares for, all of her fears come crashing down on her. But John Green, genius that he is, pairs this downward spiral with an off-beat mystery that keeps us all guessing as well. Quirky characters abound, as usual, and will stay with you long after you close the book. I love this one!
"It all begins with a fugitive billionaire and the promise of a cash reward. Turtles All the Way Down is about lifelong friendship, the intimacy of an unexpected reunion, Star Wars fan fiction, and tuatara. But at its heart is Aza Holmes, a young woman navigating daily existence within the ever-tightening spiral of her own thoughts.
In his long-awaited return, John Green shares Aza's story with shattering, unflinching clarity," (Good Reads)